We didn't fund our Kickstarter, so for now, the book is on hold. But here's what is planned for the book when it's eventually released…
Every chapter of the Lush Little Landscapes book is planned to be full of possibilities and each garden will have 6-12 pages of inspirational photos, DIY instructions and buying guides.
I work with so many quality vendors and craftspersons – you will be amazed at what's coming. It's jam packed with things you've never seen before that will breathe life and realism into your miniature gardens.
Of course, we'll have to make some choices because it can't all fit in one book. As always, I'm inclined to give you a ton of value for the money – and will likely put a lot more in the book than I originally planned, but my readers will have to make some choices about what can fit in the book. Just going over the table of contents gets me excited all over again and I don't know what I'd leave out if I had to decide.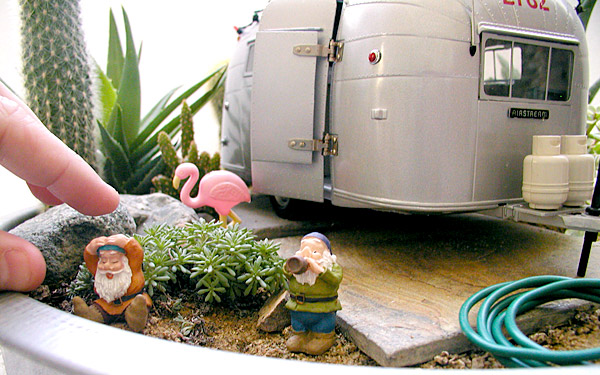 Table of Contents for Lush Little Landscapes
(If we find a way to get the book done)
Featured Gardens
Garden Railway in Miniature Garden Scale (I'm really excited about this one – tiny working trains all the way from Australia!)
Fantasy Land 1, 2
Kitchen Herbs for miniature gardens in Creative Containers
Events (Centerpieces for parties, gifts, or just for you)
Tea Party 1, 2, 3 (You've seen a peek at one – there is lots more to come)
Picnics and BBQs 1, 2, 3 (I'm dying to break out my picnic basket. Want to see?)
Camping Trailer 1, 2, 3, 4 (The Airstream trailer is a fan favorite – but I have them in several scales and lots of other ideas to explore.)
Places
Farm 1, 2, 3 (The farm is the ultimate garden – now you can grow your own)
Treehouse 1, 2 (This has been on my list to make since a friend asked for one a year ago. I'm finally making it and you'll want to make one, too!)
Beach 1, 2, 3 (An easy garden to take care of – and I have a variation that requires no care at all and is fun to play with)
Front Yard 1, 2 (The front yard is a perfect place to plant your flowers, a tree and park your favorite car in the driveway)
Back Yard 1, 2 (Full of tree swings and croquet sets, volleyball and barbecues, pools and ponds and pets)
Park (Take a walk through a city park, with lights)
Neighbors (Good fences make good neighbors – and I'll show you how to make a fence you haven't seen before)
Campground (Break out the tents and the marshmallows over an open campfire)
Pond (There's nothing prettier than a pond in your garden)
Topiaries and Mazes (Exciting, right?!?!)
Seasons
Let's explore one garden, going through the seasons. And let's look at gardens that are built for the season they're celebrating.
Winter 1, 2
Spring 1, 2
Summer 1, 2
Fall 1, 2
Worldwide
Japanese Zen Garden
Italian Winery
English Village
Irish Hills
French Countryside
Tropical Beach
Savannah in Africa
Amazonian Jungle
City Garden
American Desert
Alpine Mountain
Rocky Mountain Forest
Coral Reef
Holidays (These make great gifts and centerpieces)
Valentine's Day
St. Patrick's Day
Easter
Cinco de Mayo
Mother's Day
Father's Day
U.S.A. Patriotic Holidays (President's Day, Memorial Day, Independence Day, Veteran's Day, Election Day, Labor Day)
Halloween 1, 2, 3
Thanksgiving
Christmas 1, 2
Minimal Care Gardens
Basics
Calculate and plan the right scale
Creating Water Features (Waterfalls, Ponds, Streams, Fountains)
Creating Natural Topography (Hills, Cliffs, Dunes, Ravines)
How to light your garden
Planning and design
Structures (to make and to find)
Paths & Patios
Walls
Buildings
Fences
Bridges
Stairs
Making Accessories
Chairs, benches and tables
Birdhouses
Swingset & Sandbox
Ponds
Sandcastles
Fountains
Windchimes
Reference: List of additional tutorials for food and other accessories
Finding Accessories (Covered throughout, plus pages of the best miniature items that bring life to your miniature gardens)
Leisure: Chairs, benches, hammocks, tables, lounges
Refreshment: Food & Drink
Keepsakes: Sentimental items to find and collect
Recreation: Activity, sport, play
Creatures: Wildlife, pets and their accessories
Decorations: Making it real
Personalization: Making it memorable
Homes: Houses, castles, tents, campers
Transportation: Cars, motorcycles, bicycles and wagons
Reference: Accessory vendors and ideas for finding all items
Containers
Making

Hypertufa
Wood
Wire
Pottery

Decorating

Decopauge
Painting
Accessorizing
Mosaic

Finding

Where to look for bargains
Quality for a lasting garden
Unexpected Containers
Garden Themes Extended
Plants Reference Guide
Flowers and color
Texture and tone
Easy care
Tender care
Plants for Topiaries and Mazes
Plants for…
Trees

List of good tree-like shrubs for all kinds of gardens
Pruning shrubs to create trees
Trees that stay miniature

Where to buy

Online
Nurseries with fantastic miniature garden departments