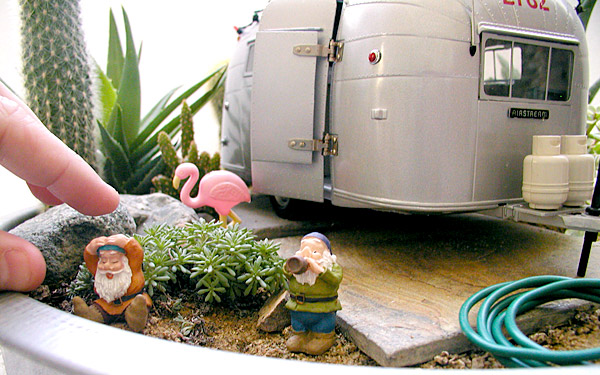 About Us
What are Lush Little Landscapes?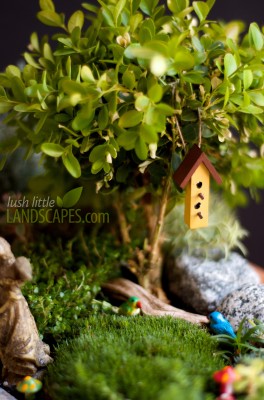 I create lush miniature fairy gardens that are akin to landscapes. My goal is for each one to be attention-getting, delight-inducing, realistic and sometimes sprinkled with a sense of whimsy and playfulness. Miniature gardens that have a little chair, path, trellis and some small plants are very satisfying, but I want to help you to take your miniature landscaping to the next level. I create innovative mini gardens using supplies and items you can find, buy or make and then I show you how to choose and create the accessories that make your tiny garden come to life.
Why create miniature gardens?
So many people are like me – they do all their gardening in containers because they don't have even a small patch of land. Apartment and condo dwellers and windowless office cubicle inhabitors need to connect with nature. Anyone can create a dream landscape in small form and keep it on their desk, as a centerpiece for an event or in a kitchen window. They're great for gifts and can be themed and designed for almost any occasion. Those of us who don't have a large parcel of land can make that space in a miniature garden.
It's how we increase our acreage.
Not only that, but fans of many crafting methods all come together when creating an artistic miniature garden. Painting finishes, making miniatures, sculpting with clay, stamping, sewing, building, carving, appliqué, collecting, finding, growing. It all comes together in miniature gardens. The artistic disciplines of architecture, garden design, crafting, design. We get to do it all.


Why make a living garden?
Running your hands through the plants you watch grow every day is refreshing in ways that only living things can provide. Suddenly you have endless possibilities for creating inspiring landscapes that feed the part of you that needs to connect with nature. You get to tend it and nurture it. There is something soothing about being connected to nature in this way, even if you don't have space for a full-size garden.
And even if you do have a full-size garden, there's something delightful about seeing that shrunk down and condensed. Don't you think?
Fascination with difference in scale
My fascination with miniatures was fostered at an early age. My dad has always tinkered with model railroads. I built my own "dollhouse" from an apple crate when I was 11. My parents noticed my interest and bought me a Lundby dollhouse that year with lights that plug in! My mom built two big dollhouses for my sister and I the following year – which were beautiful and lovingly decorated with colors that matched our rooms.
We visited Queen Mary's Dollhouse at Windsor Castle in 1977. I looked through the book for the exhibit and imagined building those tiny worlds endlessly. The miniature gardens of Storybook Land at Disneyland and others that were inspired from miniature railroads in England have always held a magical fascination. I spent countless hours looking into all these tiny worlds and letting my imagination fly. For me, the dioramas for stage design are more interesting than seeing the final production. There's something special about seeing things in another scale. I can't quite say why there is a fascination with tiny things. Perhaps it takes us back to childhood. Or into a fantasy world we get to create.
Get the Lush Little Landscapes book on KICKSTARTER.
My offer to you
Get started creating your lush little landscape dreams right away. Each garden I create will have a detailed project sheets with information about plant types, how to make or where to buy accessories, ideas for variations. Sign up below for the Lush Little Landscapes mailing list if you want to bring more delight and realism into your miniature garden.
[mc4wp_form]
Support
I spend at least 60 hours per month creating gardens to spur your creativity. If you'd like to support my efforts to bring you the best ideas and inspiration, you can make a monthly or a one time donation:
Monthly or Annual Subscription
One Time Donation (specify amount)
My great partners
Lush Little Landscapes is thrilled to partner with these vendors that provide the best in miniature gardening supplies and inspiration:
Miniature Gardening (miniature accessories)
Armstrong Gardens (plants)
The Mouse Market (miniature food)
Lush Little Landscapes participates in affiliate programs for:
Amazon, Burpee
, VivaTerra
and Plow & Hearth
These programs provide small affiliate advertising commissions by linking to their sites and products. If you click on my links to these sites and buy anything – even something other than the product advertised – I earn a small commission and you don't pay extra. That helps me provide the best content to inspire your miniature gardening.
If you purchase any of my Project Guides, it's a win-win for all of us.